While airlines like ANA and JAL represent Japan around the world, there are also much smaller Japanese airlines that, among other things, focus on connecting the country's main islands with its smaller outlying islands.
With Nagasaki Prefecture being home to 51 of the more than 300 inhabited ones, it is no surprise that an airline started specifically for the purpose of providing vital air service between those islands and the mainland was formed. An airline that one of its former Presidents called "a different type of LCC, a local community carrier," in a 2015 interview with PROJECT DESIGN, a magazine about regional revitalization.
Oriental Air Bridge started operations in 1961 as Nagasaki Airways using DeHavilland DH.104 Dove aircraft. Today, the airline uses a fleet of Bombardier Dash 8 aircraft on routes connecting not only the Nagasaki Prefecture's outlying islands with the main Kyushu island but also on a limited selection of routes within Japan's main islands.
In this article, I will dive deeper into the airlines history and even take you onboard a pair of its flights that I had a chance to take earlier this year.
A Vital High-Speed Link to Nagasaki's Outlying Islands
Nagasaki Airways was established in 1961 as a "third sector" airline by Nagasaki Prefecture and its partners from both the public and the private sectors to connect the prefecture's outlying islands with mainland Kyushu. With no high-speed ferry services existing back then, the airline was to provide a higher-speed alternative to the standard ferries that connected (and still connect) Fukuoka and Nagasaki with these islands.
In the same year, the airline received its first aircraft, a DeHavilland DH.104 Dove registered JA5006. In 1963, it welcomed another example of the type (JA5038) into its fleet. Using the British twin-engine aircraft seating less than ten passengers, Nagasaki Airways launched scheduled routes connecting Nagasaki on the mainland with Fukue and Iki islands just off the coast of Kyushu.
For a brief period of time in 1966, the airline also chartered an amphibian Grumman G-73 Mallard registered JA5090 from Japan Domestic Airlines, one of Japan Airlines' predecessors.
While little is known about that part of Nagasaki Airways' history, records show that on February 22, 1966, the airline received regulatory approval to use the aircraft to operate irregular Omura – Iki – Tsushima flights. The aircraft, one of only 59 airframes of the type manufactured, was sold to the United States in September 1966.
Not long after that, Nagasaki Airways' two regular routes were taken over by ANA which deployed the newer and larger Fokker F-27s on the routes. With that, Nagasaki Airways retired its two DH.104s and only operated small single-engine Cessna 172s for the following decade and a half or so.
Nagasaki Airways Returns to Its Origins
In 1980, Nagasaki Airways decided to return to its origins, acquire a pair of Cessnas slightly larger than the 172s it operated until then, and launch scheduled flights between Nagasaki and Iki. In April 1981, the airline added flights between Nagasaki and Kami Goto airport on Goto Islands' Kashiraga Island.
The next phase of the airline's growth started the following year, in 1982, when Nagasaki Airways acquired its first two Britten-Norman BN-2 Islanders. A fleet of the small twin-props, generally hovering between five and six airframes in size, remained the company's workhorse for more than two decades.
In terms of network, Nagasaki Airways' next expansion came in 1984 when it launched Kami Goto – Fukuoka. On December 20, 1985, when Ojika airport on Nagasaki Prefecture's island of the same name opened, the airline launched flights to the airport from both Nagasaki and Fukuoka.
With ferry between Nagasaki and Fukue taking about three hours and the same flight only taking around half an hour, Nagasaki Airways was able to enjoy a monopoly on "fast travel" between the mainland and the islands throughout the 1980s. However, things started to change in 1990 when a high-speed ferry linking Nagasaki and Fukue in less than 90 minutes was introduced. A year later, similar services were launched between Hakata (Fukuoka) and the islands of Iki and Tsushima.
Trying to counter the market conditions that made its air service to the remote islands less lucrative, in April 1993, the company expanded its business scope. It did so by signing a contract to operate Nagasaki Prefecture's emergency helicopter, a Kawasaki BK117C-1.
The next noteworthy change in Nagasaki Airways' operations didn't come until 1999 when it decided to transfer most of its general aviation business including its fleet of two Cessna 172s and a Cessna 402B to Saga Air, today's SGC Saga Air.
To close off the millennium as well as its existence as Nagasaki Airways, the airline launched scheduled flights between Fukuoka and Iki in July 2000.
Nagasaki Airways Rebrands to Oriental Air Bridge
Looking to expand beyond Nagasaki's outlying islands where the competition from high-speed ferries made it difficult to remain profitable, Nagasaki Airways decided to rebrand itself to Oriental Air Bridge in March 2001.
"Oriental" was put in the company's name to signify Nagasaki's history as the gateway to Japan from China, Korea, and elsewhere, and "Air Bridge" to signify its position as the bridge between Japan's main island of Kyushu and Nagasaki's outlying islands. Sky blue, emerald green, and marine blue were picked as the brand's new colors to represent the sky, islands, and sea.
Around the time the airline was rebranded, it also received its first Bombardier DHC-8-Q200 registered JA801B which, with 39 seats, offered about four times as much capacity as the BN-2, its largest aircraft to that point. It acquired another "Dash 8," JA802B, by the end of 2001. Both of those airframes are with the airline to this day.
The same year, in August, Oriental Air Bridge launched its first intra-mainland route, Nagasaki – Kagoshima, after Air Nippon terminated the same. The following year, it added another Goto Islands destination to its network, launching flights from Nagasaki, Fukuoka, and Osaka Itami to Goto Fukue. In September 2003, after Air Nippon terminated the route, Oriental Air Bridge launched Nagasaki – Tsushima flights. In March 2005, it launched its second intra-mainland route, between Nagasaki and Miyazaki.
While this was mainly a period of expansion for the airline, between 2003 and 2004, it also terminated some of its routes including Fukuoka – Iki, Fukuoka – Goto Fukue, and Goto Fukue – Itami.
The expansion was also followed by downsizing in the spring of 2006 when Oriental Air Bridge terminated its services to Kami Goto and Ojika. The BN-2s which Oriental Air Bridge used exclusively on these flights left the fleet shortly afterward, leaving the airline only with a pair of Q200s.
It was using those turboprops that in May 2007 Oriental Air Bridge celebrated transporting its millionth passenger. However, hidden behind the celebrations were economical difficulties. To get out of those, in 2008, the airline announced its plan to restructure.
Oriental Air Bridge Partners with ANA
As part of the restructuring, the airline and Nagasaki Prefecture entered into a tie-up with ANA in November 2009. The largest Japanese airline agreed to provide systems support to and also code-share with Oriental Air Bridge. Around the same time, Oriental Air Bridge terminated its Nagasaki – Miyazaki route and launched flights between Fukuoka and Goto Fukue.
Other than terminating its Nagasaki – Kagoshima route in 2012, the next few years at the airline were fairly quiet.
The next big step for Oriental Air Bridge came in 2017 when it started operating Dash 8 Q400s leased from ANA. Initially, it used the ANA aircraft staffed with Oriental Air Bridge crew on Fukuoka – Miyazaki flights. Later on, in 2018, it deployed them on another intra-mainland route, Fukuoka – Komatsu. Finally, in March 2020, the airline started Fukuoka – Tsushima route operated by the Q400.
Taking all that into account, Oriental Air Bridge operates seven different routes today, three out of Nagasaki (Iki, Goto Fukue, Tsushima) and four out of Fukuoka (Goto Fukue, Tsushima, Miyazaki, Komatsu), using a pair of its own Dash 8 Q200s and a number of ANA Q400s. In addition to that, it still operates Nagasaki Prefecture's air rescue helicopter, now an Airbus AS365N3+ registered JA119Z.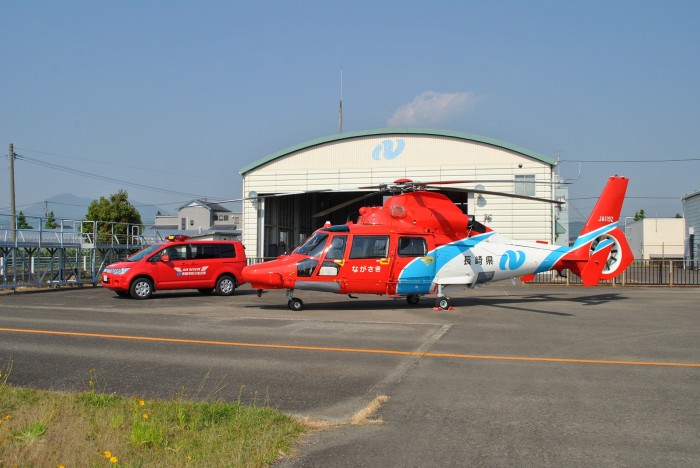 With its Q200s nearing retirement age, Oriental Air Bridge detailed its future fleet plans earlier this year. According to a press release dated January 22, 2020, the airline plans to replace its older Q200, JA801B, this spring with a different second-hand Q200. Whether the coronavirus outbreak will affect those plans in any way remains to be seen.
Oriental Air Bridge also plans to refresh its fleet completely in 2023 at the earliest. In the meantime, it plans to rely mainly on ANA's Q400s and the incoming Q200. The airline also plans to reduce the usage of its second Q200, JA802B, and mainly use it as a spare aircraft.
Nagasaki to Fukuoka via Goto Fukue Onboard Oriental Air Bridge
My experience with Oriental Air Bridge started on a mid-March morning at Nagasaki airport. From there, I took flight OC73 to Goto Fukue. Just over an hour after landing, it was time to take another flight, OC94 to Fukuoka.
While nowadays, the airline is mostly using ANA's Q400s on the Fukuoka – Goto Fukue route, both of the flights I took were operated by an Oriental Air Bridge Q200s. In fact, I had a chance to fly on both of the airframes the airline owns – JA802B to Goto Fukue, and JA801B to Fukuoka.
Boarding
Because of Oriental Air Bridge's partnership with ANA, boarding took place in groups. On both flights, passengers requiring assistance and those with small children were called to board first, followed by ANA status holders. Finally, the rest of the passengers were invited to board.
While the flight from Nagasaki to Goto Fukue was, with 18 passengers, about half-full, the flight from Goto Fukue to Fukuoka only had 10 passengers onboard.
Cabin and Seats
Both of the aircraft were in the same configuration featuring 39 seats. Those included two backward-facing seats at the very front, eight rows of four seats in a "2-2" layout, and a row of five seats spanning the full width of the aircraft at the very back.
The legroom was more than generous, especially considering the fact that the aircraft are mainly used on routes that are just half an hour long.
Onboard Service
The flights started with a welcome announcement that, considering the situation, included some information about what the airline was doing to prevent the spread of COVID-19. That, among other things, included the cabin crew wearing masks and plastic gloves.
Those announcements were followed by a manual safety demonstration performed by the single cabin crew member onboard.
After take-off, with the first flight only taking 21 minutes from take-off to landing and the other one 37 minutes, there was, understandably, no real onboard service to speak of. That said, both of the flights offered excellent views of some of the islands along the way.
In addition to that, the crew was friendly as well. When the flight attendant on the flight from Nagasaki to Goto Fukue saw me taking photos, she approached me saying "this is a rare route, so make sure to take a lot of photos." She even took a map of the local area out of the seat pocket and handed it to me.
When she saw me taking a photo of that map, she offered to bring me a brand new one (the one in the seat pocket was beaten up) to take home with me.
All in all, considering the length of the flights, the onboard service was as good as it gets.
Summary
Oriental Air Bridge is one of the small, lesser known Japanese airlines that provides vital air service to the country's outlying islands. As you can see above, having started almost 60 years ago in 1961 as Nagasaki Airways, the airline has a long and interesting history.
With not much time in service left for its Bombardier Q200s, I can only recommend flying with the airline on your next trip to Japan if you get the chance.